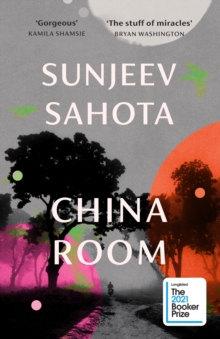 'An intense drama of classic themes – love, family, survival, and betrayal – told with passion and precision in Sahota's economical, lyrical prose' Adam Foulds
Mehar, a young bride in rural 1929 Punjab, is trying to discover the identity of her new husband. She and her sisters-in-law, married to three brothers in a single ceremony, spend their days hard at work in the family's 'china room', sequestered from contact with the men. When Mehar develops a theory as to which of them is hers, a passion is ignited that will put more than one life at risk. 
Spiralling around Mehar's story is that of a young man who in 1999 travels from England to the now-deserted farm, its 'china room' locked and barred. In enforced flight from the traumas of his adolescence – his experiences of addiction, racism, and estrangement from the culture of his birth – he spends a summer in painful contemplation and recovery, finally gathering the strength to return home.
A breathtaking tale of the rich, wild world and all its wonder from acclaimed nature writer and Costa Award-shortlisted novelist, Melissa Harrison – the perfect read for children for spring and summer! 'Timely and magical, it will open the young reader's eyes to the wonders of the natural world.' NATASHA FARRANT
Three tiny, ancient beings – Moss, Burnet and Cumulus, once revered as Guardians of the Wild World – wake from winter hibernation in their beloved ash tree home.
When it is destroyed, they set off on an adventure to find more of their kind, a journey which takes them first into the deep countryside and then the heart of a city.
Helped along the way by birds and animals, the trio search for a way to survive and thrive in a precious yet disappearing world …
The breathtaking children's debut from acclaimed nature writer and literary fiction novelist, Melissa Harrison, author of All Among the Barley and At Hawthorn Time: shortlisted for the Costa Book Award and longlisted for the Baileys Prize.
Inspired by 1942 classic The Little Grey Men by BB, with shades of The Borrowers.A tale of disappearing wilderness that couldn't be more relevant in today's environmental crisis, brought to life for children by three tiny, funny, eternal beings – the hidden folk.